Pennsylvania poker players have a chance to get a free seat to Las Vegas this September. After the recent popularity of the summer Aria series Las Vegas, PA online players now have an opportunity to get back to Sin City. This time, BetMGM Poker and Bellagio have joined forces and announced qualifier packages for poker players to compete in the Bellagio Kickoff Classic Main Event, with a guaranteed prize pool of $500,000.
"We are excited to partner with Bellagio Hotel & Casino to bring online players and the BetMGM Poker brand back to Las Vegas," said Luke Staudenmaier, BetMGM's Director of Poker in a press release. "The timing of the Kickoff Classic with the start of NFL season gives players the complete Vegas experience this September."
Players in PA, NJ and MI can all get in on the qualifier action. Daily mega-qualifiers for as low as $20 will run each day. The online qualifier events will continue throughout Aug. 28, and tournament winners will get a $5,000 Bellagio Poker Package.
PA poker players can secure the $5,000 Bellagio Package
Players can go on BetMGM Poker now and compete for packages. Each state will play independent of each other for a chance to win a qualifier. All BetMGM online winners will receive a package that includes the following benefits:
$3,500 BetMGM entry into the Live Bellagio event Sept. 7
Hotel stay at Bellagio Las Vegas Sept. 6-10
Travel expenses
According to its site, to participate, players must log in to their BetMGM account and register for qualifier tournaments using cash buy-ins or Tournament Dollars. To be eligible, players must be 21 years of age or older and located within Pennsylvania, New Jersey or Michigan's state borders while playing.
Players can also take advantage of special deposit codes to get more free seats into the qualifiers.
Win your way to Vegas and the Bellagio Kickoff Classic Main Event
Pennsylvania tournament players, whether residents or not, can join the series qualifiers through the BetMGM Poker client.
Each day, $20 and $100 qualifiers will lead to the Sunday Aug. 20 and Aug. 27 $535 qualifier, which will award five $5,000 packages per state each Sunday night.
Here is the full qualifier schedule listed on BetMGM's twitter page:
Bellagio Poker championship schedule 2023
For anyone headed to the desert, Bellagio has a full lineup of events from Aug. 31 – Sept. 10. The tournament series combined will guarantee over $800,000 in prize pools.
The Bellagio Kick Off Classic features 12 events with tournament buy-ins that range from $400-$3,500. This gives an opportunity to jump in the fun, no matter your bankroll size.
Bellagio classic update – Player's requested we reacted
We have moved the $800 PLO mystery bounty to Sunday 09/03 and the $600 Seniors to Thursday 08/31 pic.twitter.com/X7khR1Ll76
— Bellagio Poker Room (@BellagioPoker) August 14, 2023
Besides the $3,500 Main Event, players have some other notable events to get into this September. Other series highlights include:
$600 NLH Seniors Event (Event 1, Aug. 31) – $30,000 guaranteed
$800 PLO Mystery Bounty (Event 4, Sept. 3) – $50,000 guaranteed
$600 NLH Mystery Bounty (Event 7, Sept. 5) – $50,000 guaranteed
$600 NLH (Event 12, Sept. 10) – $25,000 guaranteed
The full schedule of events is available on the Bellagio website.
Borgata Fall Mini-Series up next for Pennsylvania poker players
It has recently been announced on the Nerdthusiast Poker Podcast that a Fall Borgata Poker Series, in partnership with BetMGM, will take place at the end of September.
The mini-series will come with $1 million in guarantees. Be on the lookout for live online qualifiers for PA online poker players, with more information coming soon from PlayPennsylvania.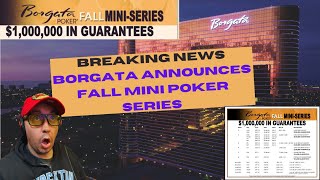 The post Pennsylvania Poker Players Can Earn Seat For Bellagio Kickoff Classic Through BetMGM appeared first on Play Pennsylvania.